Dozens of Charleston-area faith leaders are calling on the Medical University of South Carolina to do more in its work to address health disparities in the region.
More than 50 faith leaders joined the Charleston Area Justice Ministry, a multifaith coalition that tackles issues ranging from housing to health care, on Aug. 23 outside St. Patrick Catholic Church in downtown Charleston. They urged MUSC to fund two mobile medical units, which would be managed by nonprofit Fetter Health Care Network. 
"Goodwill is great," said the Rev. Byron Benton, pastor of North Charleston's Mount Moriah Missionary Baptist Church. "But good deeds are even better."
The two-room, fully furnished vans would cost about $815,000, according to the justice ministry. CAJM is also asking MUSC to fund a year of personnel costs related to the units. CAJM's online statement is available at bit.ly/mobile-units.
"We believe these specific units, or something similar to it, are necessary in order to close the gap and provide effective health care — primary health care, for our community," Benton said.
CAJM agreed to study the issue after almost 1,000 ministry members gathered virtually last fall to discuss barriers to medical care access. Since November 2020, the ministry has spoken with 20 national and local health care officials and has studied data to conclude many people in the tri-county region struggle to access good health care because of obstacles related to the lack of trust toward medical professionals, unaffordable costs and lack of transportation.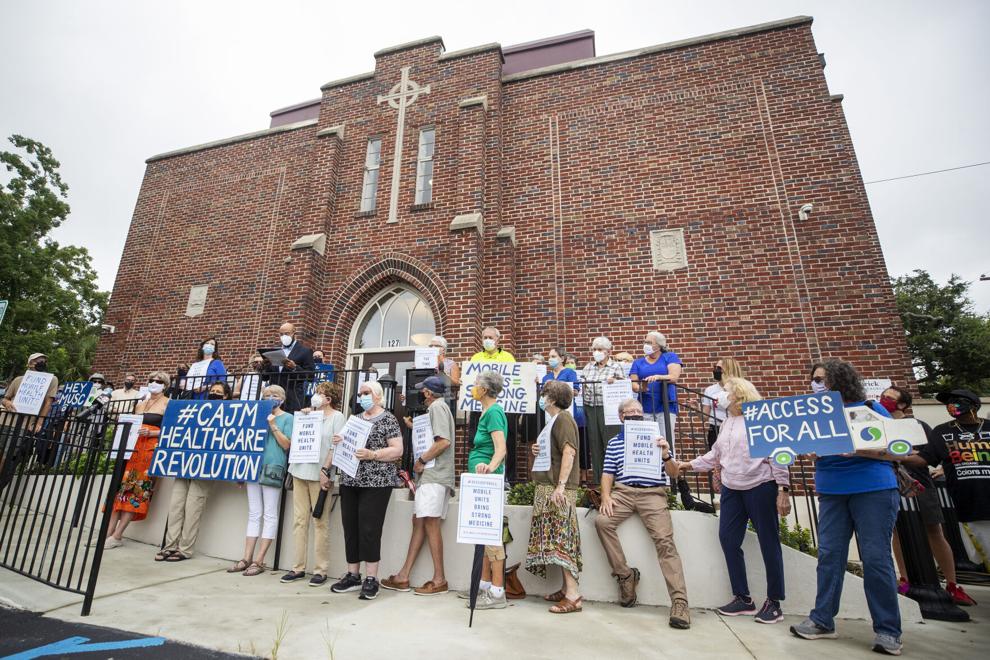 Census estimates in 2019 noted there were 83,000 uninsured residents in the tri-county region. The 2019 census estimates contains the most recently released health care data breakdown by county.
Many Black and Brown people do not feel comfortable navigating a medical system that is dominated by White people, faith leaders said.
"People can't get to the doctor, afford a doctor, or they do not trust the doctor," Benton said.
CAJM said the new mobile units would help those who lack health care access. Fetter's mobile health units provide primary care and medical homes for people on a sliding scale, regardless of insurance status.
The issue of fair access to medical care also has moral implications, CAJM leaders said.
Benton said the ministry's call aligns with the Bible's Micah 6:8, which notes the Lord's requirement is to "do justly, and to love mercy, and to walk humbly with God."
Charleston City Councilman Keith Waring attended the rally in support of the ministry and its call to action.
"I don't know if there's a more sincere group behind community initiatives," Waring said. 
Rhulaunda Donald lost her Medicaid coverage after giving birth to her second child.
But even with health insurance through her job, Donald, who is diabetic, couldn't afford the copays for regular checkups.
Additionally, her car had broken down, so transportation was limited. Donald's health further declined.
She thinks she would have fared better if she had better access to affordable medical care during her moment of need.
"A mobile unit definitely would've helped," Donald said. "It shouldn't have been that big of a struggle in the country we live in."
MUSC has not agreed to funding the mobile health units, but discussions about CAJM's request are ongoing, spokeswoman Heather Woolwine said.
MUSC is pursuing funding strategies and partnerships for new medical buses in the area.
"We are pursuing funding strategies and partnership opportunities for new mobile units in our area with Fetter and are reliant on the details of those opportunities to commit to a realistic and comprehensive timeline for implementation," Woolwine said.
The hospital has also signed an affiliation agreement with Fetter that establishes a framework for improving access to health care for underserved populations.
Additionally, the hospital has hundreds of studies and programs aimed at addressing disparities. These include free care clinics, telehealth specialty care offered around the state by health experts, financial assistance programs and patient and family advisory councils that work to help improve access.
The hospital also delivers about $152 million in unfunded care annually, and has numerous STEM and related pipeline programs to encourage more underrepresented minorities to become health care providers, Woolwine said.
Fetter said said it would be willing to provide health services to those in need if provided with the mobile units. Transportation is among some of the barriers to health care access, Fetter CEO Dr. Aretha Polite-Powers said.
The network rolled out vaccine clinics over the past year and witnessed the impact made by mobile health units.
"It's evident that taking services to the community is very important," Polite-Powers said.
Reach Rickey Dennis at 937-4886. Follow him on Twitter @RCDJunior.